Bringing business and education together to engage, inspire, and shape our region's young workforce. Are you in?
DYW Moray helps employers to connect and engage with schools and young people in the local area. Our aim is to provide professional and transparent guidance that suits the needs of your business.
Your business can benefit from engagement with schools. Across Scotland many businesses have formed meaningful partnerships with schools, colleges and other education providers. Employer knowledge and experience can be used to enrich learning across the curriculum, and help young people to improve their understanding and readiness for employment. You can help young people directly or by engaging with the people who support and influence them, such as teachers, lecturers and parents. In particular helping to keep them up-to-date on the changing workplace and opportunities available and how to access them.
Philip Hargreaves, Subsea Recruitment Manager, says, 'DYW gave us confidence and assistance every step of the way. The work placement opportunity was a rewarding experience for all involved.'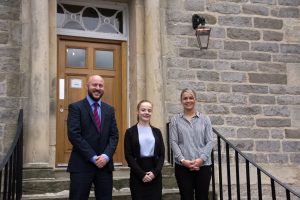 Contacts
If you would like to find out more about DYW or how your business can engage with young people, the Moray team would like to hear from you. Please call 01343 610 388 or email info@dywmoray.co.uk
Please see the DYW Moray Website for more details.